Communication | Collaboration | Accountability | Innovation | Recognition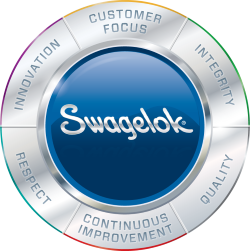 From the far reaches of space to the bottom of the ocean and everywhere in between, Swagelok has been a partner alongside our customers, pushing the boundaries of what is possible. That is our mission – we are always looking for a better way. Our associates – corporate and distributor – are singularly focused on how they can improve our customers' experience, every single day.
So much depends on our customers' critical applications – company success and reputation, local economies, and the preservation of the environment and safety. And, therefore, so much depends on our associates.
Finance
Our finance and accounting associates play a key administrative role in our organization. From processing receivables, payables, and payroll to preparing the company financial statements, the associates ensure the accurate, timely, and appropriate recording of business transactions consistent with generally accepted accounting principles. In addition, the department is responsible for internal management reporting, providing insight into the business to identify cost efficiencies and to track our progress to plan.
Accounts Payable
Receive and verify invoices and requisitions for goods and services
Prepare batches of invoices for data entry
Manage and record the weekly cheque run
Maintain updated vendor files and file numbers
Respond to questions and make calls regarding billing problems; act as a liaison between departments and vendors
Accounts Receivable
Handling collection for business to business
Full cycle accounts receivable including cash application, adjustments and following up on overdue invoices
Reconciliation of accounts receivable
Processing credit checks, contact customers regarding revised/new credit limits and all other issues related to accounts receivable
Accounting Generalist
Poviding assistance to Finance Manager regarding processing and maintaining financial records
Complete bookkeeping and accounting tasks, including account reconciliations and various month-end adjusting and accrual journal entries
Prepare working papers for the financial statement month end close processes
Reconciliation of bank accounts monthly for various companies
Accounts receivable collections and accounts payables support
Peparing internal management reports and submitting in accordance with internal procedures and guidelines
Meet the Challenge
We are values led, and performance driven – building on our proud heritage of providing excellence in service to customers. We seek to truly understand our customers' unique business challenges so that we're better able to add real, tangible value to their facility and operation.
Are you ready to meet the challenge? We're always looking for good people to join our team. Send us a general inquiry with you resume and cover letter by completing the form below: