Communication | Collaboration | Accountability | Innovation | Recognition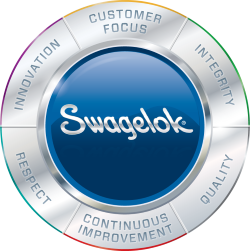 From the far reaches of space to the bottom of the ocean and everywhere in between, Swagelok has been a partner alongside our customers, pushing the boundaries of what is possible. That is our mission – we are always looking for a better way. Our associates – corporate and distributor – are singularly focused on how they can improve our customers' experience, every single day.
So much depends on our customers' critical applications – company success and reputation, local economies, and the preservation of the environment and safety. And, therefore, so much depends on our associates.
Sales & Marketing
Our key account and business development associates play a large role in our organization. Today they might be working to secure a specification on an engineering design; tomorrow they're discovering who the key decision makers are in a project – all the while evaluating and prioritizing opportunities to both build our business and help our customers succeed. Every customer touch point is an opportunity to demonstrate our core values and strengthen relationships.
Our marketing department is an integral part of the sales process. From crafting effective and captivating copywrite to fulfill our content and campaign pipeline to managing a multi-faceted, multichannel marketing strategy, no one day is the same. Effective digital marketing has never been more important and our marketing team ensures we are found and relevant in the digital space.
Meet the Challenge
We are values led, and performance driven – building on our proud heritage of providing excellence in service to customers. We seek to truly understand our customers' unique business challenges so that we're better able to add real, tangible value to their facility and operation.
Are you ready to meet the challenge? We're always looking for good people to join our team. Send us a general inquiry with you resume and cover letter by completing the form below: