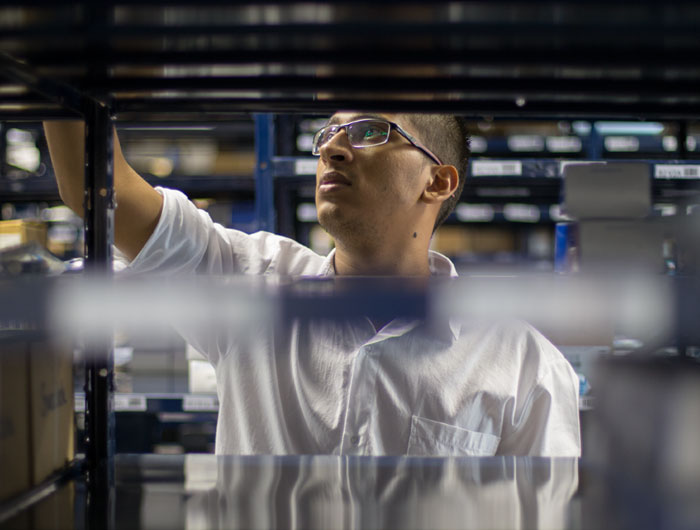 Supply Chain Management
Emergency Service
24 hours a day, 7 days a week, 365 days a year. That's how often our emergency contact number is staffed and available to you. We realize that downtime is costly and you rely on our products and services to keep your operations running. If you have an emergency and require product or technical assistance outside of normal business hours, please contact us, and follow the telephone prompts for service.
Consignment Inventory
Carrying needless inventory can result in excess costs. But we have a solution. Through this service, we provide you with Swagelok Inventory we own incurring no cost to you until the product is actually used. We can also help manage this localized inventory to optimize your supply chain. The result? Reduced inventory carrying costs, as well as a streamlined supply chain, which ultimately saves you money.
Vendor Managed Inventory
One of the most important value-added services available is inventory management (VMI). Our associates have years of experience in helping to manage a customer's inventory. We have saved our customers thousands of dollars in inventory carrying costs by reducing and tailoring their overall stocking levels. We can prepare part usage reports, which will help to analyze your inventory requirements. We will work with you to establish min/max levels for your inventory, and help to replenish inventory so the components are there when you need them.
eBusiness
When it comes to online quotes and orders, you can depend on us to deliver timely and accurate price quotes and order confirmations. Thanks to the convenient features of our Swagelok products website, you can expect to receive confirmation for your product orders automatically, usually in a matter of minutes. In many cases, you can also receive fast, automatic price quotes for Swagelok products giving you more time to focus on important tasks.
---
Ready to Get Started?
Amongst the many services we proudly offer our customers, it's being able to serve beyond expected by providing emergency services for the unpredictable schedules and timelines, to managing a customers inventory on a regularly scheduled basis to provide ease of stocking a wide range of products. Contact us today to get started!
Let's Get Started