Communication | Collaboration | Accountability | Innovation | Recognition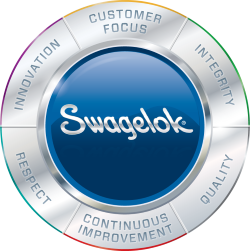 From the far reaches of space to the bottom of the ocean and everywhere in between, Swagelok has been a partner alongside our customers, pushing the boundaries of what is possible. That is our mission – we are always looking for a better way. Our associates – corporate and distributor – are singularly focused on how they can improve our customers' experience, every single day.
So much depends on our customers' critical applications – company success and reputation, local economies, and the preservation of the environment and safety. And, therefore, so much depends on our associates.
Operations
Operations Team Members are the heartbeat of our organization. Our associates in Customer & Technical service work the front lines to provide an extraordinary experience to our customers. Whether it is processing orders, fielding technical inquires, or leveraging our supply chain to meet customer demands, it is all done with a focus on the customer and our commitment to quality.
Our Warehouse team works tirelessly behind the scenes to provide our customers with their products accurately and on time. Order fulfillment is an integral part of business and our Warehouse Associates help ensure our customer needs are met. By leveraging strict quality standards they strive for our ZCD (Zero Customer Disappointments) commitment.
The VMI Group (Vendor Managed Inventory) brings our Swagelok Operation right to our customers' door. This innovative service helps ease the pressure for our clients by helping them manage their supply chain of Swagelok products. Whether the customer is located in a major metropolitan center, or an obscure remote location, our VMI experts take on the challenge to provide our customers with the products and support they need.
Meet the Challenge
We are values led, and performance driven – building on our proud heritage of providing excellence in service to customers. We seek to truly understand our customers' unique business challenges so that we're better able to add real, tangible value to their facility and operation.
Are you ready to meet the challenge? We're always looking for good people to join our team. Send us a general inquiry with you resume and cover letter by completing the form below: