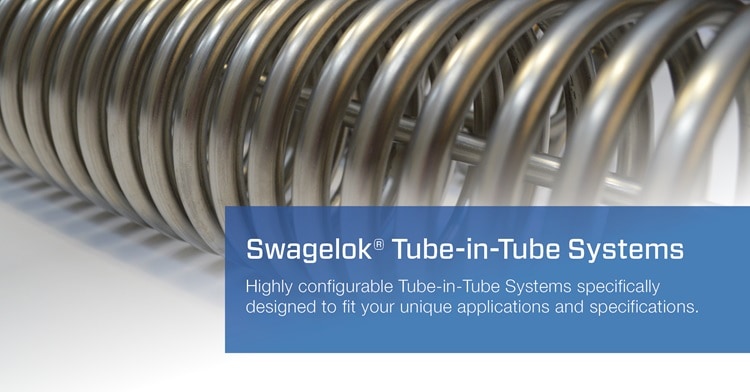 Swagelok® Tube-in-Tube Systems are available in various sizes and material selection. Our fluid system professionals will be able to assist you in selecting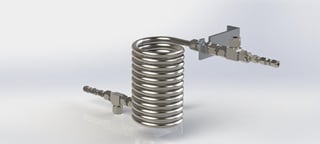 the proper specifications for your applications.
The next time you're considering a manufacturer for your Tube-in-Tube System, consider the benefits of choosing Swagelok as your solution provider:
CRN availability for 316L and Carbon Steel configurations
316L Stainless Steel systems draw from standard
inventoried products
Fast lead times
Customized lengths and radius specifications available; highly repeatable solutions
Solidworks and AutoCAD capabilities
Quick access to process media calculations through our Field Engineering team
Easy ordering information through product configurator
Backed by Swagelok Limited Lifetime Warranty
Applications for Tube-in-Tube Systems:
Analytical Instrumentation systems that require sample
cooling/heating
SAGD environments with steam generator constraints
Other applications in Oil & Gas, Power, Chemical Refining and Semiconductor
Outer tubing contains a media to cool or heat the process media running through the inner tube
Sample is used to help the end user determine the quality of media used in their process and to drive sample reliability and consistency
Specifications Available:
Design, Radius and Tube Sizes:
We have a variety of tube sizes, configurations, and radii available for your specific application.
Available Materials:
316L Stainless Steel
Carbon Steel
Special Alloy tubing (such as Inconel and Monel)
Other materials upon request
Pressure Ratings:
Request Your Free Consultation
Speak with one of our fluid system professionals today to start designing a safe, reliable Tube-in-Tube System specifically for your application.
---
Frequently Asked Questions:
Q: What configurations are available for Tube-in-Tube Systems?
A: The standard configuration would be a helical coil, however, other configurations are available. Contact your Sales & Service Center for more details.
Q: Do Tube-in-Tube Systems have CRN's available?
A: Short answer, yes.
Long answer, all components used in the construction of Tube-in-Tube Systems have CRN's, amongst other certifications such as a letter of compliance and material test reports. Further, all Tube-in-Tube Systems are built in accordance with ABSA certificate of authorization permit.
Q: Can Swagelok help me determine the size and heat transfer for my coil?
A: Yes, our Field Engineering team will be able to help you determine the size and heat transfer for your specific coil design.