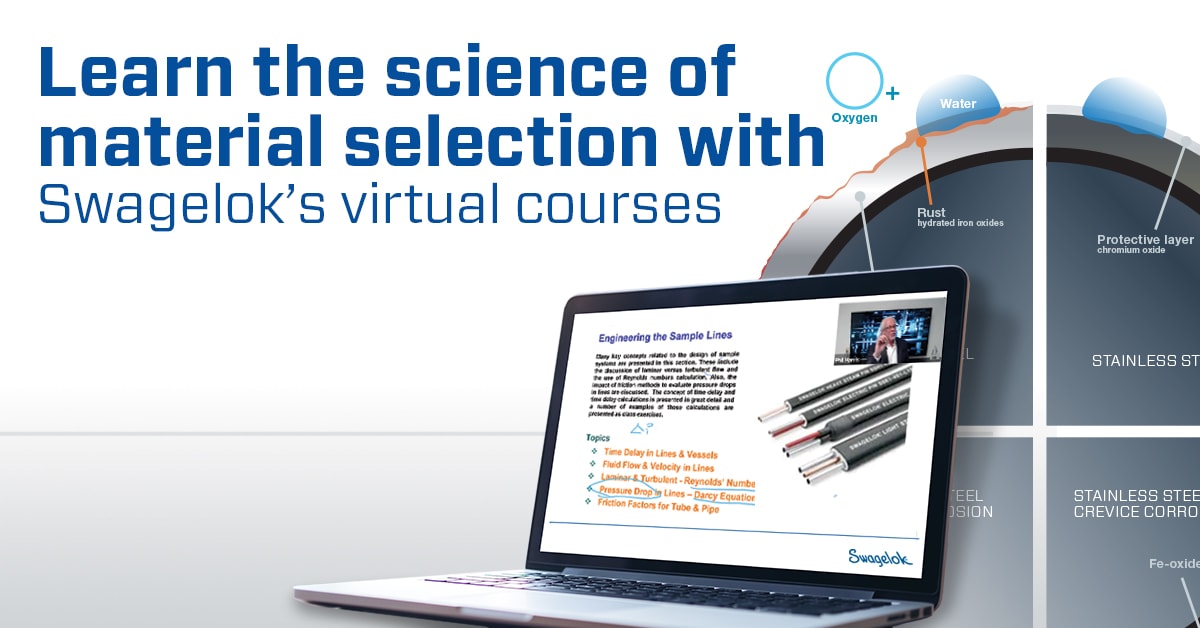 Materials Science
Swagelok® materials science training courses teach you how to choose the right corrosion-resistant materials to help you keep your fluid systems leak-tight and operating efficiently. Through this course, you will learn which specific alloys resist corrosion and how they do it, how various materials behave, and how industry standards impact your material choice. Whether you are dealing with sour oil and gas fields or aggressive precursor chemicals for semiconductor manufacturing, a strong understanding of materials science is invaluable.
Featured Swagelok Tech Talk on Materials Science
Swagelok Tech Talks are free, 30-minute (including Q&A) webinars where we connect you with subject matter experts on a wide range of topics to help improve your working knowledge of fluid systems, applications and solutions. Join Dr. Robert Bianco, Senior Materials Scientist, as he presents on various topics of Materials Science such as high purity systems, oxygen systems and hydrogen systems.
Registration
For a list of training dates and locations, please click on the button below:
Topic

Date

Location / Time

Registration Deadline

Alloys/Corrosion/
Material Selection
March 15, 2021
Virtual:
8:00 am - 10:00 am (MST)
March 14, 2021
NACE
March 16, 2021
Virtual:
8:00 am - 10:00 am (MST)
March 14, 2021
Hydrogen
March 17, 2021
Virtual:
8:00 am - 10:00 am (MST)
March 14, 2021
Elastomer Seals
March 18, 2021
Virtual:
8:00 am - 10:00 am (MST)
March 14, 2021
Additive
Manufacturing
March 19, 2021
Virtual:
8:00 am - 10:00 am (MST)
March 14, 2021
Click for registration information
Objectives
Principles of materials science, corrosion, and other factors affecting material properties
Different types of corrosion and how specific alloys resist corrosion
Critical concepts covering the nature and behavior of materials, including an atom-level view of metals, as well as the microstructural characteristics and mechanical properties of materials
Selecting effective materials of construction for applications based on pressure and temperature ratings, corrosive threats, and compliance
Selecting proper components for sour gas corrosion and NACE standards
What You'll Learn
How a sampling system functions from the process line and tap through the transport lines and stream switching, sample conditioning, analyzer and disposal processes.
How to identify the root cause of issues related to system design.
Engineering principles, formulas and calculations that are the basis for sound sampling system design.
How to optimize your sampling system, prevent sampling system errors, and ensure accurate process analyzer readings.
Who Should Attend
Anyone with an engineering background, managers, supervisors, buyers or purchasing agents, technical associates, and anyone involved in the material selection process
Newer team members seeking basic training or experienced professionals who want a refresher
Course Length
Virtually as a full-day course or in two-hour sessions spread across multiple days

Attendees can also choose to attend two-hour sessions to learn about specific topics of interest, such as alloys/corrosion/material selection, NACE, working with hydrogen, elastomer seals, and additive manufacturing
---
Your Instructors
Course instructors are experts at designing, installing and maintaining sampling systems and include:
Dr. Gerhard Schiroky, Principal Scientist

Gerhard joined Swagelok in 2000 and has been helping customers find solutions to meet their materials requirements ever since. Gerhard has an in-depth knowledge of materials-related industry standards and standard specifications, and he has authored a variety of technical publications on topics such as 316L stainless steel corrosion, the effects of alloy composition, fluid dynamics, and materials science. He routinely provides customers with a better understanding of the NACE MR0175/ISO 15156 international standard for the selection of materials for sour gas applications, and he has developed roadmaps for improved and new alloys from which future fluid system components have been constructed. Gerhard received his doctorate in materials science and engineering from the University of Utah and he has been named on over 20 patents.

Dr. Robert Bianco, Senior Materials Scientist

Bob joined Swagelok in 2017 as a materials expert and technical lead for Swagelok's additive manufacturing program. Having worked for nearly 30 years in applied R&D organizations, Bob helps customers develop materials for unique applications and protect materials from degradation in their environments. Prior to joining Swagelok, Bob helped develop protective coatings for the prevention of oxidation and material systems for advanced energy conservation applications. He also taught courses on materials science, additive manufacturing, high-temperature oxidation prevention, and stainless steels. Bob received his doctorate in metallurgical engineering from The Ohio State University and he has authored or coauthored 12 patents, more than 50 technical articles, and two book chapters on novel materials or coatings compositions and related performance test results.